Spring 2022 Course and Workshop Offerings*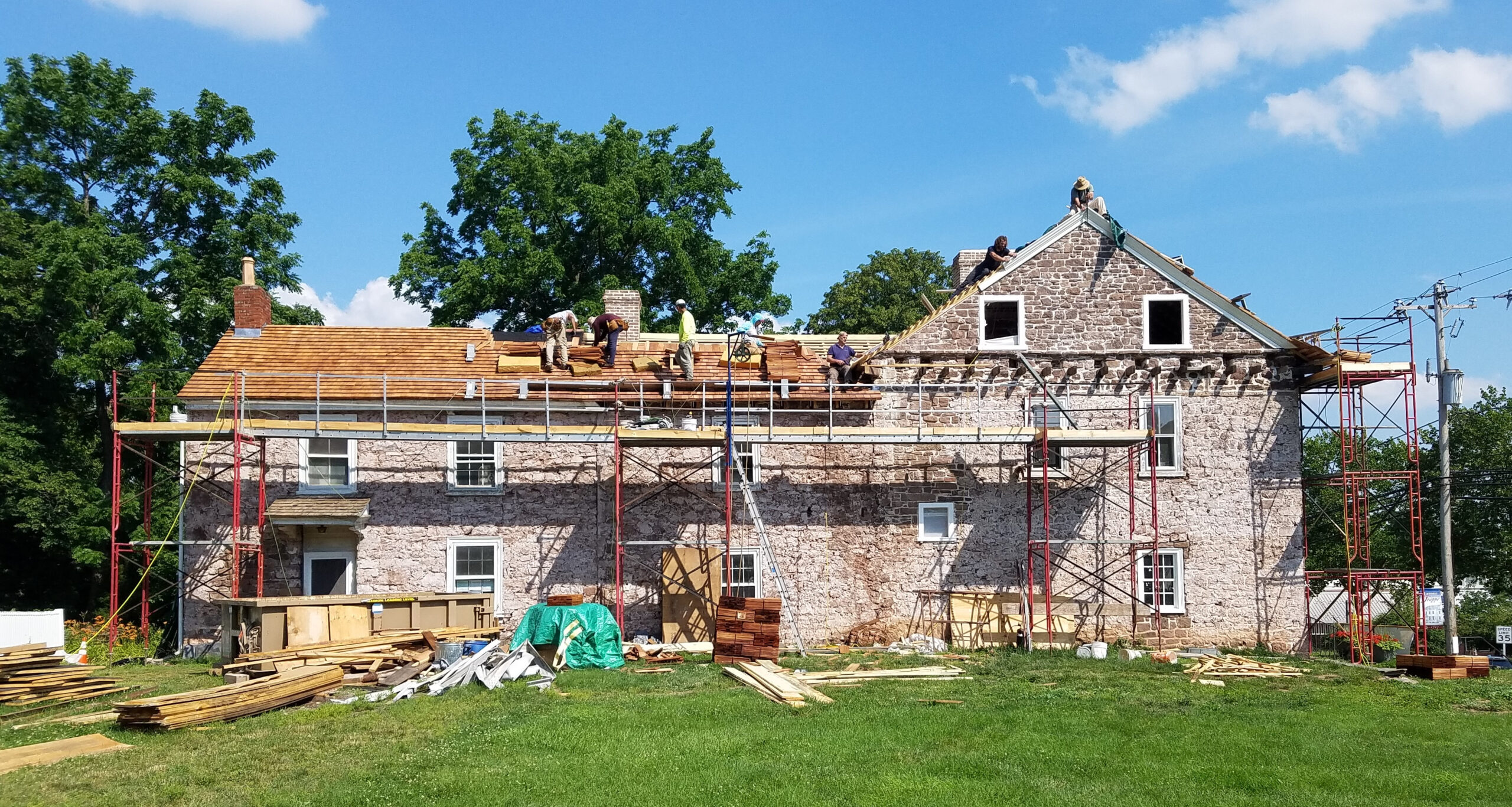 *Class and workshop details subject to change.
We are currently serving you  primarily online due to COVID-19. Please note: online offerings usually fill within 24 hours.
Workshop: Mid-Atlantic Historic Preservation Showcase: Making it Work
5-week workshop (over 7 weeks)
About: Do you have a bricks-and-mortar historic preservation project you want to tackle? Are you unsure where to get funding? Or, maybe you hope to find a way to save an old building from a demolition crew? In this workshop, we'll bring diverse historic preservation stories from around the Mid-Atlantic region right to you. You'll learn about four historic preservation projects from the people who made them happen. From moving buildings to reconstructing them, we'll talk about ways to tackle a range of preservation projects where you work, live, or volunteer. This workshop includes a short homework assignment and a resource-sharing session. Each showcase session includes time for discussion with the presenters.
Objectives: 
Learn about diverse historic preservation projectsin the Mid-Atlantic region.
Learn about funding and advocacy strategies for historic preservation projects.
Gather and share historic preservation advocacy and funding resources with other workshop participants.
Who Should Register: Anyone who wants to hear about preservation projects from throughout the Mid-Atlantic and research and share resources with others.
Workshop Leader: Nicole Belolan, PhD
Schedule: Five Wednesdays in April, May, and June 2022
Wednesday, April 20, 6:00-8:00PM EST, online
Wednesday, May 11, 7:00-8:00PM EST, online
Wednesday, May 18, 7:00-8:00PM EST, online
Wednesday, May 25, 7:00-8:00PM EST, online
Wednesday, June 1, 6:00-8:00PM EST, online
Week I: April 20, 6:00PM-8:00PM EST, Orientation and First Showcase, ReBuild, ReFrame, and Construction of the Pyrrhus Concer Homestead in the Southhampton, New York

Through the framework of equity, presenters will demonstrate a plan of sustainability and implementation for the reconstruction of the Pyrrhus Concer Homestead. This is an intermunicipal project in the Village of Southampton, NY, that is associated with northern slavery.
Presented by Dr. Georgette Grier-Key, principal investigator and design committee chair of the Pyrrhus Concer Action Committee, and Nicole Jean Christian, Economic Development Leader
Week II: May 11, 7:00PM-8:00PM, Raising the Roof at the Speaker's House in Trappe, Pennsylvania
Located on a colonial highway that runs between Philadelphia and Reading, Pennsylvania, the Speaker's House was built in 1763 and is best known as the home of Frederick Muhlenberg—first Speaker of the U.S. House of Representatives. It was nearly torn down in the early 2000s to build a CVS, but a grassroots effort by local citizens saved it from the wrecking ball. After paying off a sizable mortgage and conducting a painstaking study of the building combining archival, architectural, and archaeological resources, the group embarked on restoration of the house to the Muhlenberg era. The biggest hurdle in this process was restoration of the original roofline, which required the removal of a c. 1873 mansard roof and reconstruction of a pitched roof along with a massive chimneystack containing four corner fireplaces. A combination of visionary thinking, major fundraising, in-kind donations, professional craftspeople, and skilled volunteers made this all possible and ultimately helped spearhead the formation of Historic Trappe.

Presented by Lisa Minardi, Executive Director, Historic Trappe

Week III: May 18, 7:00PM-8:00PM EST, Rebuilding a Barn in Pennsburg, Pennsylvania

As part of an emphasis on preserving agricultural history, the Schwenkfelder Library & Heritage Center in Montgomery County, PA, opened its largest artifact—a Pennsylvania bank barn of 1826—to the public in the fall of 2020. The barn was relocated about 20 miles from its original location to the museum. Executive Director Emeritus Dave Luz and Board member Vern Seipt whose family donated the barn will share the story of the why and how this reconstruction took place.

Presented by David Luz, Executive Director Emeritus of the Schwenkfelder Library & Heritage Center in Pennsburg, PA, and Vern Seipt, is a partner owner Freddy Hill Farms and Freddy's Family Fun Center in Lansdale, PA, lifelong member of the Central Schwenkfelder Church located in Worcester, PA, and longtime Schwenkfelder Library and Heritage Center supporter.
Week IV: May 25, 7:00PM-8:00PM EST,  Rehab Reflections – The Journey of an 1830s Log Cabin in Hagerstown, Maryland

The journey of the cabin that now sits at 417 N. Jonathan Street in Hagerstown, Maryland, began nearly 300 years ago. It has served as a witness to the ever-evolving environment at its doorstep and beyond while maintaining its original purpose, housing generations of families and individuals with their own unique lives and stories to tell. Today, as a result of perseverance against the threat of demolition and project challenges, and the commitment of time and resources by Preservation Maryland and project partners, the humble dwelling in the heart of the historic African American Jonathan Street community now stands revived and resolute as owner-occupied affordable housing, ready to hold the stories of many more generations of homeowners.

Presented by Laura Houston, Preservation Maryland's Historic Property Redevelopment Manager
Week V:  June 1, 6:00PM-8:00PM EST: Wrap-up and Resource Sharing Session with group and Nicole Belolan
Location: Online
Cost: $75

Credits: 0.7 CEUs, Pass/Fail
CEU Note: Participants wishing to earn CEUs toward the continuing education certificate must attend all sessions and complete homework. At the discretion of the workshop leader, a participant may miss a session and complete makeup work to pass and receive CEUs.
Course Number: HP-124-Sp22-Online 

Accessibility:  If you need ASL interpretation, live captioning, or other accommodations, please let us know about two weeks before the start of the reading group. You can make this request by emailing nicole.belolan@rutgers.edu. Or, you can call 856-665-6878.
Registration: Register here: https://ce-catalog.rutgers.edu/coursedisplay.cfm?schID=86005.

Speaker Information:
Dr. Grier-Key
Dr. Grier-Key is a well-regarded guest curator and consultant that has various appointments such as, New York History Advisory Board Member for the New York History Journal and she has been elected to various outlets that inform and further the study of history, preservation and culture, specifically the Preservation League of New York State and the Museum Association of New York to name a few. She is cultural partner for Sylvester Manor Educational Farm of Shelter Island. Dr. Grier-Key was a guest curator for the Long Island Museum's 2019 Exhibition, Long Road to Freedom: Surviving Slavery on Long Island. Her work and expertise transcend to the Smithsonian's newly introduced National Museum of African American History and Culture in Washington. Her role is regional, local and multigenerational with a skill set and understanding that comes from academia, on the job training, and working across disciplines.
Additionally, professor Grier-Key teaches history at CUNY Medgar Evers College in Brooklyn NY and leads the Long Island History Institute, a grant funded initiative at SUNY Nassau Community College in Garden City. Her mission has raised awareness about and fights to protect endangered historic BIPOC sites, presence, history, folklore, and survival on Long Island's East End. She is also a third-generation licensed real estate broker and has certificates in nonprofit finance management, municipal planning and zoning, and serves on the Town of Brookhaven's Historic District Advisory Committee.
Dr. Grier-Key is a seasoned art and cultural heritage professional who contributes commentary regularly to local media outlets such as Newsday, Sag Harbor Express, Southampton Press, 27 East, Long Island Advance, East Hampton Star, Long Island Pulse, CBS New York and News 12; delivers lectures and virtual program to many outlets; publishes her research annually; serves on local committees and supports various private and public organizations
Nicole Jean Christian
Nicole Jean Christian's experiences are in helping businesses and local governments tackle economic development initiatives by securing grant funding, tax incentives, and offering strategic guidance and support throughout the planning process. She has had a successful grant writing career helping to leverage over $20M in public investment while helping to create 1000's of local job opportunities, protect the Long Island Sound and transform downtowns across Long Island and NYS. Nicole Jean has a 20+ year career in economic development in the related disciplines of downtown revitalization, affordable housing, disaster recovery, business attraction and retention, entrepreneurship, historic preservation, and waterfront revitalization. Ms. Christian is a proven economic development professional with a front-line record of successful completion of downtown revitalization projects across the region. Nicole Jean has held economic development executive leadership positions at the Town, County and Federal levels. She has worked for the Town of Brookhaven and Suffolk County on Long Island and in Washington DC and NYC at the U.S. Environmental Protection Agency (EPA), Department of Interior (DOI) and the U.S. Small Business Administration (SBA).
Nicole Jean has a demonstrated track record of winning and managing multi-million dollar Federal, NYS, County and Town grant funds for municipal capital/infrastructure projects and programs and possesses specific expertise in the legislative process and the development of multidisciplinary partnerships for completion of regionally transformative projects. She is an expert in regional placemaking initiatives. She is a class of 2001 Presidential Management Fellow (PMF) and a Class of 1999 National Network for Environmental Management Sciences Fellow (NNEMS). In 2021 Nicole Jean was accepted into the highly selective and competitive NYS Empire Fellowship program, a leadership program that is building the pipeline of talent for NYS agencies.
Ms. Christian is placed in the New York State INJDepartment of State Office of Planning, Development and Community Infrastructure (DOS/OPD&CI). Her portfolio includes projects in downtown and waterfront revitalization, coastal management, environmental justice, and climate change. She is an avid ballroom dancer having danced for close to 15 years, performing for the last 2 years. Nicole Jean holds a BBA from Marymount University and a MPA from George Mason University with a graduate certificate in nonprofit management. She is completing a doctorate in business by 2024. Nicole Jean has been teaching at the adjunct level for over 10 years at Long Island University in the MPA and MBA programs and has authored three books.
David Luz
David Luz is the Executive Director Emeritus of the Schwenkfelder Library & Heritage Center in Pennsburg PA where he oversaw the capitol campaign that included the reconstruction of the barn. Dave is a graduate of Mansfield State University with a BS in Music Education and Eastern Baptist Theological Seminary with a Master of Divinity. He served in various leadership roles in the Palm Schwenkfelder and Lansdale Schwenkfelder Churches.
After two years on the board of the Schwenkfelder Library & Heritage Center, in 1997 he was named Executive Director, a position he held until retirement in June 2020. While director, he shepherded two successful capital campaigns that tripled the size of the Heritage Center, held positions on the board of the Rural History Confederation, and implemented Heritage Tours to eastern Europe, the Schwenkfelder ancestral home.
Vern Seipt
Vern Seipt is a partner owner along with his two brothers, Matt and Bill, of Freddy Hill Farms and Freddy's Family Fun Center in Lansdale PA. Freddy Hill Farms is a family owned dairy and ice cream retail establishment; the Fun Center is a miniature golf and driving range facility. He is a lifelong member of the Central Schwenkfelder Church located in Worcester PA and has been involved with the Schwenkfelder Library and Heritage Center for approximately 15 years.
Laura Houston
Laura Houston oversees Preservation Maryland's Historic Property Redevelopment Program, helping the organization navigate its redevelopment initiatives—from strategic planning to project management to expansion of the property redevelopment portfolio. Prior to her employment with Preservation Maryland, Laura worked as a Historical Sites Specialist for the Florida Department of State, Division of Historical Resources managing preservation projects and the spending of federal and state funds for the Division Grants Program. She also served as Research Associate for the Florida Trust for Historic Preservation where she oversaw research projects and assisted in writing and editing grant applications and organization publications.
Reading Group: Entangled Lives: Labor, Livelihood, and Landscapes of Change in Rural Massachusetts, By Marla R. Miller

5-week reading group
About: (Still!) Spending more time at home but still want to read and talk about historic and contemporary issues in historic preservation? Join us as we read and discuss historian Marla R. Miller's Entangled Lives: Labor, Livelihood, and Landscapes of Change in Rural Massachusetts (Baltimore: Johns Hopkins University Press, 2019). Weekly readings will be accompanied by digitized primary sources. In the final meeting, we will be joined by the author for an informal discussion.
Who should register: Anyone who would like to read and discuss this book with a small group at the appointed times should register. Please assess your interest in the book, book availability and cost, and your equipment (computer with webcam [if you want] and microphone as well as a reliable internet connection) before registering. If you do not have computer capabilities, phone-only is also OK.
How to Access this Book:
-Check your local library to see if they offer the book. 
-Purchase through a bookstore of your choice.
-Acquire a hardcopy or ebook through the publisher or an online retailer. 
Instructor: Nicole Belolan, PhD
Guest Speaker (May 31): Marla R. Miller, PhD, author of Entangled Lives: Labor, Livelihood, and Landscapes of Change in Rural Massachusetts
Dates and Times: Five Tuesdays, May 3, 10, 17, 24, and 31, 7:00PM – 8:00PM EST
Location: Online via Zoom.
Cost: $0, but participants must have access to the book and meet tech requirements (see above)
Credits: 0.5 CEUs, Pass/Fail. Participants pursuing the certificate may apply up to four reading groups (2 CEUs) toward the certificate. 

Course Number: HP-121-Sp22-Online
Accessibility: If you need ASL interpretation, live captioning, or other accommodations, please let us know about two weeks before the start of the reading group. You can make this request by emailing nicole.belolan@rutgers.edu. Or, you can call 856-665-6878.
Registration: Click here to register: https://ce-catalog.rutgers.edu/coursedisplay.cfm?schID=85928. If the class is full, you will be added to the waiting list. If a spot opens on the waiting list, we will let you know.

Nicole Belolan, PhD, is Public Historian at the Mid-Atlantic Regional Center for the Humanities (MARCH) at Rutgers University-Camden, where she directs the Continuing Education Program in Historic Preservation. In that capacity, she also serves as Co-Editor of The Public Historian and as Digital Media Editor for the National Council on Public History. Belolan is a historian of the material culture of everyday life in early America and specializes in disability history. She has been working in the region's small museums and historic sites for over ten years, particularly in the areas of collections management, interpretation, and accessibility. She earned an MA from the Winterthur Program in American Material Culture and in History as well as a PhD in History, all from the University of Delaware. 
Marla R. Miller, PhD, is a Distinguished Professor of History at the University of Massachusetts Amherst. Marla Miller's primary research interest is U.S. women's work before industrialization. Her book?The Needle's Eye: Women and Work in the Age of Revolution?was published by the University of Massachusetts Press in August 2006, and won the Costume Society of America's Millia Davenport Publication Award for the best book in the field for that year. In 2009 she published an edited collection, Cultivating a Past: Essays in the History of Hadley, Massachusetts, also with the University of Massachusetts Press. Her book?Betsy Ross and the Making of America? (Holt, 2010)–a scholarly biography of that much-misunderstood early American craftswoman–was a finalist for the Cundill Prize in History at McGill University (the world's largest non-fiction historical literature prize), and was named to the Washington Post's "Best of 2010" list. A short biography of Massachusetts gownmaker Rebecca Dickinson appeared in the Westview Press series Lives of American Women in summer 2013. In 2019 she completed a microhistory of women and work in 18th-century New England titled Entangled Lives: Labor, Livelihood, and Landscapes of Change in Rural Massachusetts (Johns Hopkins University Press, 2019).
Miller also publishes in the field of Public History. In 2016, with UMass Amherst colleague Max Page, she published Bending the Future: Fifty Ideas for the Next Fifty Years of Historic Preservation in the United States (University of Massachusetts Press, 2016). In 2012, she and three co-authors released Imperiled Promise: The State of History in the National Park Service, a multi-year study funded by the NPS Chief Historian's office and hosted by the Organization of American Historians. In 2013, Imperiled Promise? won the National Council on Public History prize for Excellence in Consulting.
In addition to her own scholarship, Professor Miller contributes to her fields of study as an editor.? She has served on the editorial board of?the Public Historian as well as the Journal of the Early Republic, and currently serves on the board of the?New England Quarterly.? Dr. Miller is also the founding editor of the prizewinning UMass Press series Public History in Historical Perspective.
As faculty in, and former Director of, the History Department's Public History program, Professor Miller also teaches courses in Public History, American Material Culture, Museum and Historic Site Interpretation, and History Communication. She also continues to consult with a wide variety of museums and historic sites. In 2016, Professor Miller was elected vice president/president elect of the National Council on Public History; her term as NCPH president commenced in Spring 2018, and concluded in Spring 2020. Her presidential address, "'In the Spaciousness of Uncertainty is Room to Act:' Public History's Long Game," can be found in the August 2020 issue of The Public Historian.
Preservation Planning –  Class full. Registration has ended.
10-week class
About: This course provides an overview of urban planning as it relates to the preservation field, with a specific emphasis on the history of planning, planning processes, land use laws in New Jersey and Pennsylvania, and economic development best practices at the municipal level. Students will learn through lectures, hands-on activities, and at-home assignments. At the end of this course, students should be able to:
Begin to interpret a zoning notice letter
Identify land use regulations that affect historic places, structures, or sites
Understand the impact of historic planning practices
Attend and understand a meeting held by the local Planning Commission, Zoning Board of Adjustment, or Historic Preservation Commission
Who should register: This course will provide an introduction for those who are new to planning or who are curious about the intersection of planning and preservation, such as historic property board members, volunteers, or managers; local government elected officials or review board representatives; property owners on a historic site or in a historic district; and anyone who wants to learn more about preservation from a planning perspective.
Instructor: Meredith Johnson
Date and Time: Mondays, March 7-May 9, 2022, 6:00PM-8:00PM EST
Location: Online via Zoom and Canvas
Cost: $275
Credits: 2 CEUs
Course Number: HP-105-Sp22
REGISTER**: This class is full, and registration has ended. Please note that registration for online classes usually fills within 24 hours.
**If you want to register using a PO, please email nicole.belolan@rutgers.edu for instructions. 
Meredith Johnson is a city planner and historic preservationist who has practiced in Texas, Washington State, and Pennsylvania. She has teaching experience with Temple University and the University of Pennsylvania. Johnson holds a BS in Urban & Regional Planning from Texas State University and an MA in Historic Preservation from the University of Pennsylvania.
Subscribe for our newsletter here so you're among the first to know when registration opens!
Please note: online offerings usually fill within 24 hours.